Counteracts the anti-buffering capacity of feed
Antibacterial effect against harmful bacterial such as E. Coli
Reduces the incidence of post weaning diarrhea
GLOBACID OPCL is a synergistic complex of orthophosphoric, citric and lactic acid, used to lower the acid buffering capacity and pH in the stomach of piglets.
GLOBACID OPCL is designed to amend a piglet's inability to produce sufficient HCL, the high acid binding capacity of piglet feeds, and pathogenic bacteria contaminations, resulting in less diarrhea.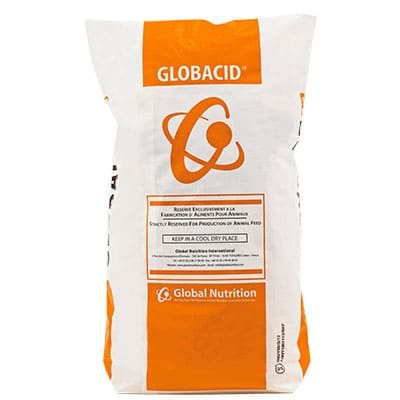 Reducing the buffering capacity of feed
GLOBACID OPCL contains high potency acid donors and supplies a rich source of H+ ions to saturate the acid binding receptor sites.
The use of these acids counteracts the acid binding capacity of raw feed materials, allowing for complete digestion of protein.
Broad activity
GLOBACID OPCL has 7 pKa activation points, which produces a relay effect as one acid releases its H+ ions, lowering the pH to a point where it activates another acid, continuing until optimum pH is reached.
Antibacterial effect
By reducing the stomach pH to 4 and the ability of lactic acid to provide non-pH dependent inhibition of acid sensitive bacteria like Salmonella and E. coli, GLOBACID OPCL provides a sound antibacterial effect for young pigs.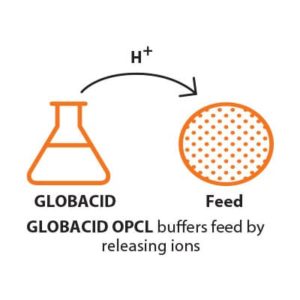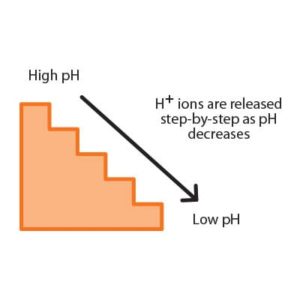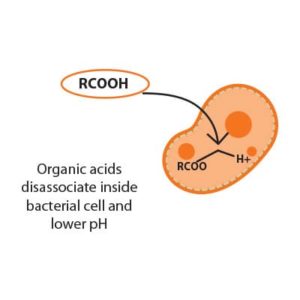 Benefits to your production system
Nutritional state
Lowers feed buffering capacity
Enhances protein digestion
Broad range of activation
Microbial state
Acidifies the stomach
Inhibits pathogenic bacteria
Reduces mortality
Environmental state
Improves litter quality
Reduction in diarrhea
Safe to handle